If you've never heard of blackout poetry, here is your incentive to get out there and see what it's all about. My university professor was the first one to introduce it, and I've loved it ever since. Essentially, students are given a text- that body of text is dependent on you, and what you want them to use. It could be an excerpt from a book, something you're learning about at the moment, or anything else. You could also have students choose a text of their own! I chose a 'spooky story' since it was around Halloween time. From that text, they must select words/sentences to make a poem. All other words/sentences will be blacked out.

I've decided to include a lesson plan that I created which explains the activity in more depth. Although it uses the Ontario curriculum, it can be modified to fit any curriculum.

Here's what the final product looks like:

As promised, here's the lesson plan:
Powered by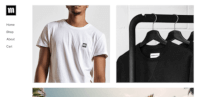 Create your own unique website with customizable templates.